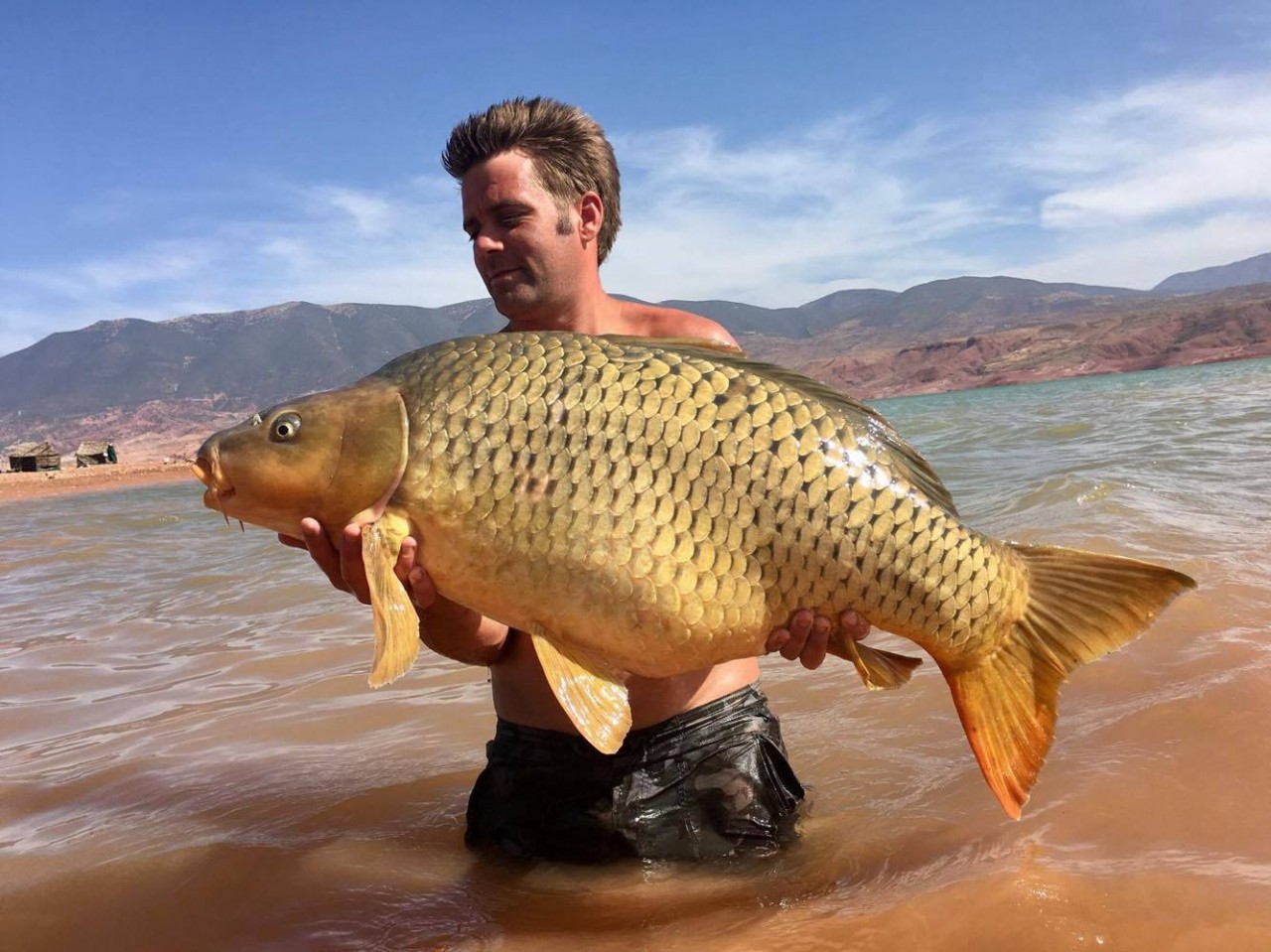 September marks the official start of the new season on BEO !!
Although we have a number of anglers who continue throughout the months of June-August the weather can be hot and the fishing although still hectic can be challenging due to the heat.
However in September conditions start to change slightly and as the intense summer Moroccan sun starts to ease, the carp begin to creep back in closer and out of the deeper waters they've held up in, through much of the summer.
Its here in September that the fishing starts to really come alive on BEO, and for the first few anglers arriving this September the fishing as expected has started with a bang! The new season is in full flow and we are as excited as ever for what it will have in store for all those heading out.
Throughout the summer the Team still in Morocco, Hamid, Salah and said have been working away to add to the Morocco Carp HQ located at the stunning hotel Bin El Ouidane, with a new club room and tackle storage rooms, all set up and ready for the start of new season.
And as I write this Michael and Hamid are returning from another epic drive to Europe to pick up Even more new quality gear to be added to the original stock!
New Nash rods, Landing nets, Vortex Boats, New 65lb thrust Motors, lowrance sonars, Rebel Cell batteries, slings, matts, filming equipment etc etc great effort guys that's always a long drive.
As always we take great pride in providing quality equipment for our guests, it's an area we place great importance on.
(Thank you also Pepe for your help in storing all the equipment in Spain.)

This season we welcome another new partner to morocco Carp, Vass waders, who will now sponsor our 4 guides working on the lake with their fantastic range of Waders and new range of quality outdoor clothing. Big cheers to Vass, we've received some great products to put to the test out here.
Our head guide Grant Downward has just returned from the U.K. to run his team of amazing guides through till May next year, welcome home Grant and I'm sure many of the returning guests from last season will be looking forward to catching up with you.
I would also like to say a big welcome to top guy Jethro, an young experience big water carp angler from SA who will be joining Grant and the team of guides for the new season ahead. Looking forward to seeing you with some big BEO carp Jethro..
After such a dry year in Morocco and also much of Africa the water levels of BEO have fallen massively, we've seen the water this low in previous years it's all part of the uniqueness of BEO, its forever changing with the seasons and being used as a hydroelectric source for Marrakech fluctuation of water levels are just all part of BEO life.
The past few winters have been glorious, sunny and hot however we have winters where it rains, who knows what will come this winter.
For those that know BEO you'll know how quickly the lake will rise once the rainy season arrives but at present we have a new lake to pioneer, new islands, bays and features are popping up, it's incredible to view areas that in a few months people will be fishing over.
The size of BEO is smaller at present but with the same immense stock the fishing in theory should be even easier now, location wise..
So over the last 3 weeks, since a handful of the first few anglers arrived, the fishing has got of to an amazing start!
154 fish caught, with 12 over 20k!
Some of the bigger fish have come from depths of 18m but mostly depths of 6-10m have been producing the fish. From the footage we've seen off guys filming the sonar screens, the carp are feeding in massive shoals and slowly moving in closer from the deep waters.
With October pretty much fully booked, I wait eagerly to see the results that will follow, this should be one crazy month..
As always BEO is wild, it's beautiful and completely unpredictable in all that it throws at you, the weather or its immense carp, you Just never know what is coming! Wild carp fishing at its best, we'll keep you all updated as and when these magical bars of Moroccan gold grace the banks of those soon to join us on the Lake this month!
Big well done to all the guys that came out in September, here are just a few pics from the last few weeks.....