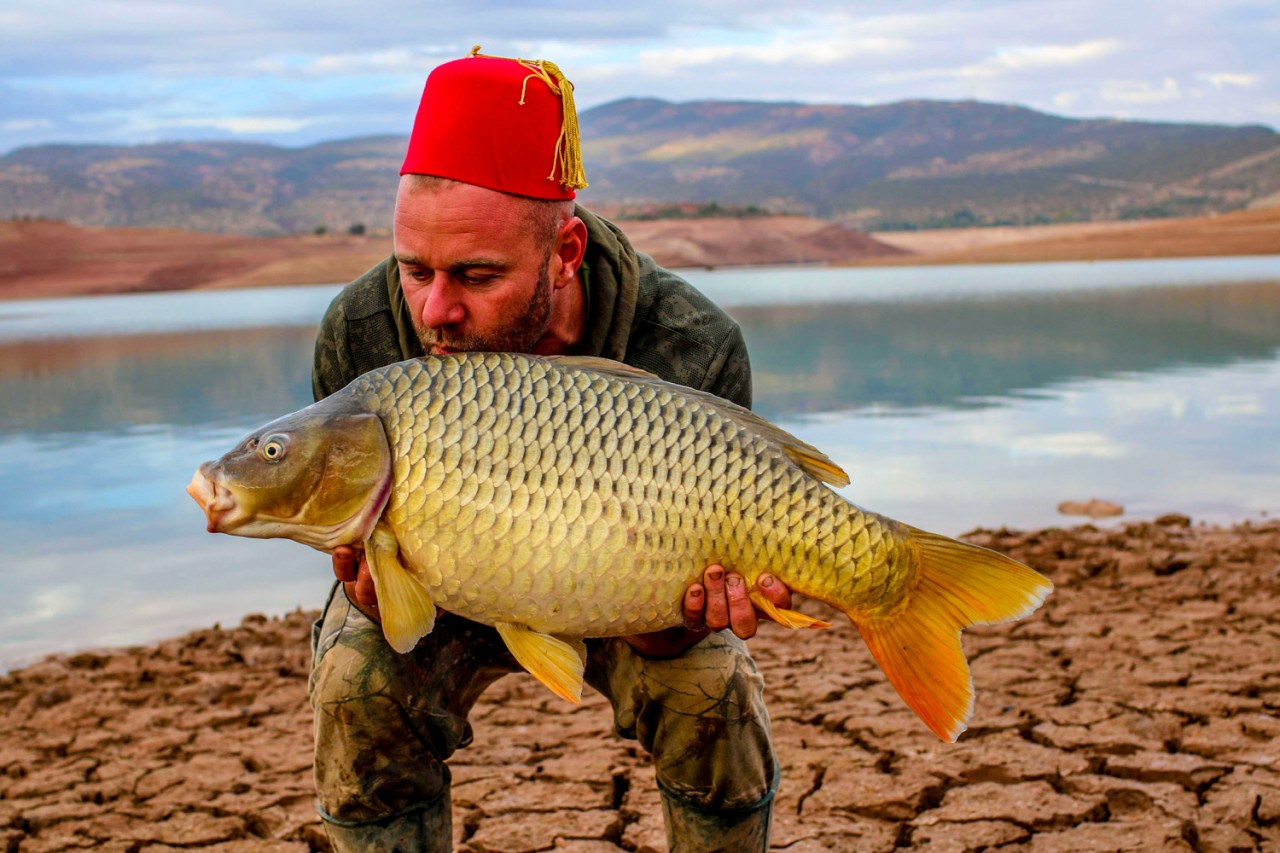 It's December, the weather outside is cold and the summer rays seem a thing of the past, the early darkness has arrived and going to and from work in darkness. It's such a depressing time of year.
I have just returned from what can only be described as a step into another world, a holiday with Morocco Carp, a wild carp fishing tour operator set in Morocco - Africa and it was a fantastic experience from start to finish.
Morocco Carp is set in the Atlas Mountains and the lake is named Bin El Ouidane which is a whopping 15,000 acres when full and hosts turquoise blue waters, mountainous back drops and some of the best looking carp in the world - common carp of all variety which go beyond 70 pounds to large framed mirrors with sovereign gold scales to over 70 pounds but that is only what's been caught. I truly believe there is bigger as the lake is very much still untapped and most the carp remain uncaught.
My session was an experience I will never forget. The story goes a little bit like this...


We arrived in Morocco airport at around 7pm and waiting at the front of the airport was the Morocco Carp driver who introduced him self and set us of on our journey through rural Morocco to the Atlas Mountains - the home of Morocco Carp. A sleepy but smooth 3.5 hours later we arrived at the hotel - actually lakeside and boasts luxurious views over the lake. The first night we opted to sleep in the hotel and start on Sunday morning.
We woke up bright and early and headed down to reception where we were introduced to Jack, one of the Morocco Carp workers. After a brief introduction we discussed options with regards to locations and possible feeding areas. Me and my fishing partner opted to wait for some lads to move from an area and start later that afternoon.


A day sunning our selves around the hotel and sinking a few beers poolside and the 4x4 arrived to take us down to the lake, I was full of eager anticipation as we was driving down the muddy road to the lake and then it happened... we was confronted with something that was out of this world, one of the most beautiful visually pleasing lakes I have ever set eyes on to which I will explain deeper into my writings.

The track lead to a large boat moored up which we loaded with suitcases, had a beer and cigarette while soaking it all in and then set sail to the swim we had both decided on earlier which was named "Fraser's Spot". A 10 min boat journey and I must have fell in love with the venue 10 times over before we arrived in our swim.
The (polish) lads who were in the swim had just finishing packing up when we arrived and after a chat with them we discovered they had caught 10 carp in 10 days which was great news to us. The lads left and Jack and crew left us to it.

There was two bivvy's provided (already set up I must add) a Vortex inflatable boat and beds and rods along with cooking gear etc., so it didn't take long to get our personal equipment coupled with the gear Morocco Carp provide and ready for action.
Out in the boat and looking on the echo sounder to visualise the lakes contours depths etc. again my heart was racing, a carp anglers dream this lake really is - drop offs, basins and gully's and vast depth ranges from 8m straight down to 30m. So many features I couldn't have covered them all if I had 10 rods never mind 3 so I took my time and thought hard about locations. In the end I settled with two rods and the third I had as a roamer which I would move around and try different depths and areas until the carp was located and both spots didn't take long to start producing the goods.


The next morning the main spot kicked off and two days of moving the third rod around I found another great spot in deeper water at range which i worked ended up introducing a second rod of which produced the bigger of the fish throughout the session.
I ended with a total of 23 carp in 6 days including a beautiful looking small mirror and many stunning banger commons, a great session in a great location one which I will never forget.

A typical night at BEO...
The eerie darkness of the lake will forever be within my memory's, I can visage it now - a pitch black curtain of black satin velvet draped over the of the sky like a narcotic darkness with stars shimmering like expensive diamonds.
Staring up at the sky longing and loosing yourself in the silver glow of moon, in the distance howling from the wild dogs echoing amongst the mountains sending a shiver down my spine. Under the protection of millions of stars and the beautiful moon nothing in life seems to matter, all problems are lost in the stars and the deep African sky. The hustle and bustle of modern day life is long forgotten and now I am enveloped in a sense of freedom, a sense of being alive and a sense of importance. Latter this moment is occasional interrupted with the sound of wild crashing carp, the monsters of the deep which again makes the hairs on my neck stand to attention, the anticipation, the surroundings, the unknown.

I thank you BEO for a truly magical experience till next time.