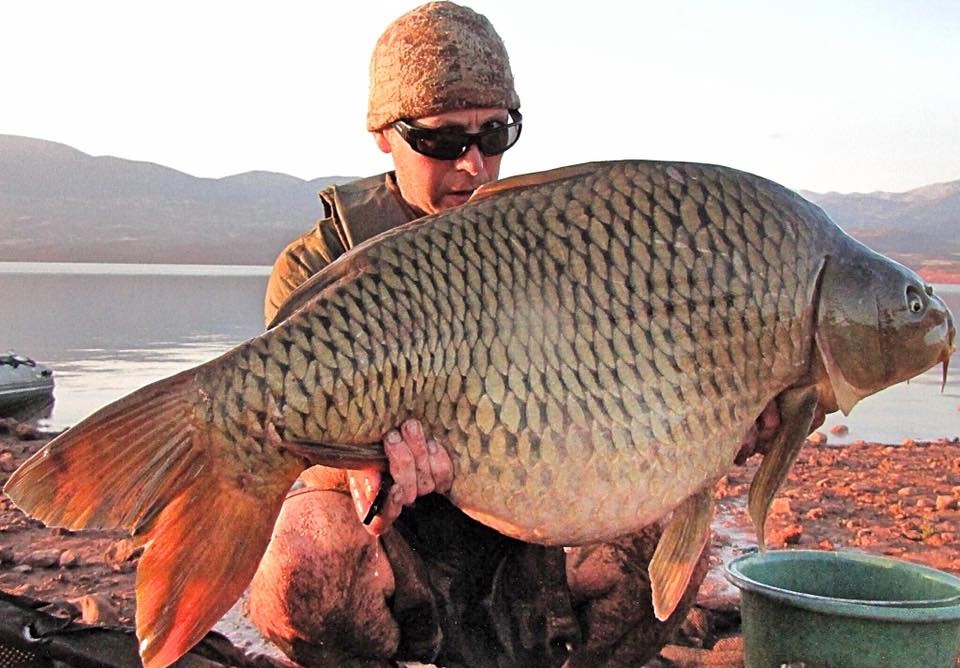 After my first trip in December 2016 wet my appetite for BEO I soon booked another trip for the May bank holiday weekend, like my December trip this would be a short long weekend hit and run. On the first trip myself & my girlfriend Michelle from the Philippines had managed a total of 12 fish between us but nothing big the best to me 28lb and the best to Michelle 22lb. So I still needed to get to grips with some of the bigger fish that swim in the lake and now I had a bit more of an idea of what to expect and how to fish the venue etc. I have kept in touch with Sam Jefferys from Morocco carp & he has been really helpful and he knows the lake very well and is without doubt a top carp angler. So I was really looking forward to BEO round two.
Logistics
The booking with Morocco carp is very easy to do on line, all the prices are there, what you see it what you get, no hidden costs. This trip I flew from Manchester to Casablanca with Royal Air Morocco I think flights were about £110 UK pounds return which include 23kg hold luggage, 10kg hand luggage and a meal and a drink on the plane, so cheap as chips as they say. The flight times were around 3.5 hours and the flights were on time. By taking a fairly lightweight case I managed to get everything I needed within the 23kg weight allowance including reels, alarms and received, leads, terminal tackle, pop ups and glug etc. My hand luggage contained my clothing etc. There was a much bigger queue at Casablanca for passport control than the previous trip at Marrakesh and my luggage was searched by the Police on exiting the airport, but I explained that all the equipment was for fishing and there was no problem. Extra security is to be expected at any airport in the world in the current climate. On arrival at Casablanca Morocco Carp were waiting to collect me, it is about 3 hours' drive from Casablanca to BEO. I had a much needed rest at hotel BEO where I spent my first night.
The next morning after a buffet breakfast I was on my way to the lake to go fishing. As I only had a short time Sam & Grant suggested that I joined Louis Bersini from Belgium who was camped out in hotel bay, Louis was doing well fishing wise & after 5 days alone was keen for some company. An advantage of fishing hotel bay was time wise that it can be reached by car so no need for a boat trip like there is to the Island that we fished last time. Whilst I normally like to fish alone, this seemed like a plan and it is sometimes nice to meet new people. The camp was already set up which also saved time. I had ordered both Atlas boilies and maize which were ready on the first day for me.
The guides were very helpful & came out with food, boat battery & anything else that you had ordered each morning.
Morocco carp have now obtained a number of mobile phones that can have an internet data sim card put in them & then 'tethered' so that anyone in the camp can use the, this proved very useful for keeping in touch and for checking the weather forecast etc.
Food and drink
I can be a bit of a fussy eater as I don't eat red meat, Lamb or fried chips etc., Morocco carp catered for my dietary requirements no problem at all, all the food received was very good, my mouth is watering just thinking of the food in Morocco, often the evening meal will be in a Moroccan Tagine which is very eat to heat up on the gas stove provided. Water, beer, coca cola or whatever you want could be bought from the hotel & delivered to your swim on the lake by the guides, nothing was too much trouble.
Tackle & techniques
The tackle was 13ft 3lb test JRC rods, I took my old faithful Diawa Sportsmatic big pit bait runner reels which have never let me down, they were loaded with a new camo line in 0.40mm which I am trying out, rigs 5oz flat leads on a drop lead rig with 30lb coated hooklenght and Gardner mugger Euro continental hooks in size 2. Due to wind, distance and to avoid line chaff on the shelf rods are fished skywards on a tight line with a heavy bobbin to aid tautness in the line and to detect possible drop backs. A RIB (rigid inflatable boat) is supplied these are Vortex with a solid floor & solid transom they are very safe very stable and very easy to control. I took the option of the electric motor & daily battery service at 12.50 Euros a day, although sometimes I also like to row, but this gives both options and the electric engine does come in handy. The boats are fitted with decent Lowrence fish finders which for me are an essential to fish big waters effectively. Life jackets are supplied but I took my own, never go out on any big water without a life jacket to do so is fool hardy.
The method employed was to find a suitable feature and or depth to fish, mark it up (I use kids fruit-shoot orange colour pop bottles attached to think braid tied to a rock – I lock the depth about 1 or 2m above the actual depth by undoing the cap wrapping the braid around the neck & then screwing the cap back on). The technique was simple enough, mark up the area boat the baits out, drop the bait and throw some boilies and maize around the hook bait to attract the fish in, then proceed back to shore set the traps and wait. I also went out in the boat to land most of the fish to avoid line chaff on the shelf.
The tents supplied are first class, camo ridge tents with sewn in ground sheets, much better than UK bivvys. Tables chairs and an gazebo style shelter are also provided for your comfort whilst waiting for a run.
When taking baits out or going out in the boat at night in addition to a head torch I put a small multi LED light on the rod rest to light the correct way back as in the depth of night it can be easy to lose your bearings. The life jacket I kept in the boat so I never forget it, I always carry a sheaved knife on the life jacket in case of emergency.
Fish care wise large carp cradles, slings and nets etc. are provided, fish care in what can be such a harsh environment is essential. As I often fish alone I use a Cannon Power shot with flip screen & remote which makes elf takes easy. I wore polaroid sunglasses during the day light, more to keep the sun & wind, dust etc. out of my eyes than to view under the water. Unfortunately I managed to get some dust in my eyes when one day I did not wear the sunglasses this meant I fished the last two days pretty much with 'one eye' (so apologies if some of the photos are not great!). Stout footwear is recommended at BEO as it can be rocky & muddy in places, I took a pair of plastic shoes with drain holes which served me adequately.
Depths & features
Louis and others had been catching in the 8-10m depths so that's where I concentrate my efforts. The first day was uneventful for me & Louis's catch rate had slowed down, but I think sometimes it can take a while for the fish to find your bait, that's what happened to me on the first trip so I was happy enough to sit and wait. Louis is a great guy and we both got on very well and helped each other out, interestingly with some slight differences our rigs and approach to our fishing were very similar. The second day I had only one run and it dropped the bait I figured it was may be a small fish.
As Louis only had a couple of days left from when I arrived it was now time for him to go, he suggested I move my rods to the area which he had fished as bait had been going into that area on a regular basis during the week he fished also the people to our left had now gone. As Louis left I put two rods in the area he had fished, the third rod I put to some fish that I had seen crashing out to the extreme left. Almost straight away the rods where Louis had been got runs and fairly soon I started to catch fish. That day I managed 6 fish and a further 7 at night, so 13 fish in 24 hours. The biggest fish went 22kg (48.5lb) which although I did not realise it at the time with weights being in kg was in fact a new personal best for me. I also managed back up fish of 18kg & 17kg, in total I caught 20 fish, which all came within a 48 hour period. The 2 biggest fish both came to the 'new' spot in around 10m depth, put to an area where I had seen fish crashing out, boating baits to them did the trick.
Scenery and location
BEO really is a very special place set in the awesome Atlas mountains the scenery alone is spectacular and it is the type of place that you feel privileged to be in even when the fish are not biting. All the locals I met were very friendly and we managed to communicate despite my lack of French and Arabic and their lack of English. The local dogs kind of adopted me and stayed around the camp for the duration as I think they do with many anglers.
Predators
On this trip I did have a try for the Pike as that's my main species back home, however to no avail on this trip although I know that the big Pike are there in BEO just waiting to be caught. Maybe next time I will catch a big pike from BEO. Big mouth Bass can also be caught on lures.
Return leg and Conclusion
The last day came around too quickly & on the last day my I needed to leave the lake at 6am for a noon flight from Casablanca back to Manchester, Michael came to collect me and took me to the hotel where I had a shower and ate breakfast before hitting the road for the trip back to the airport. The return flight was easy enough, again lots of searches and quest at passport control at the airport so best to leave plenty time. So it was pretty much job done for me with fish to 22kg, however I am already planning to go back again next year this time for a full week accompanied by my daughter who is also keen to visit the lake and to fish BEO. My thanks to everyone at Morocco carp for their help and assistance and to the mighty BEO for throwing up some lovely carp. I can highly recommend BEO & Morocco carp, no 'stockys' with names here, proper wild carping at its best.