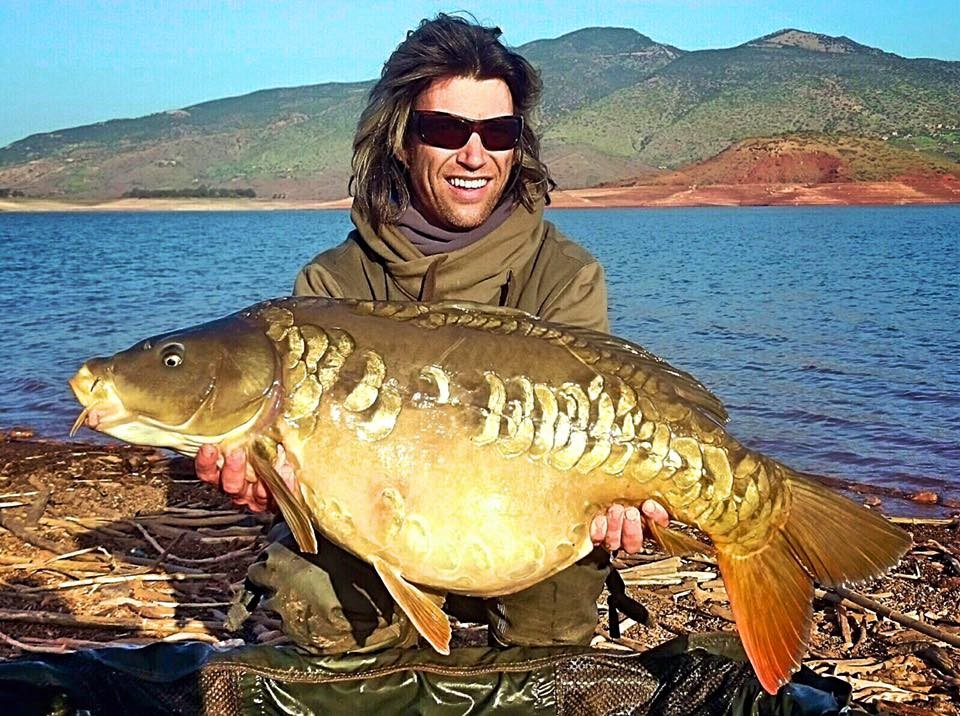 Thanks a million Morocco Carp. Just returned from the fishing trip of a lifetime to the mighty BEO. Myself and good friend Gary Carbutt to the bull by the horns and booked the trip back in September 2016, we filled in the online booking form, got confirmation of date's being available for March 14th to the 25th, booked flights to suit the dates, paid the 100 euro deposit to Morroco Carp by PayPal job done nice and easy, the remaining balance was to be paid at the lake/ hotel in euros ( cash). Sam Jeffreys the UK agent was a great help with advice for the trip ahead.
I'd been to BEO once before in 2008 and although I only caught 3 fish then I made a promise to myself that one day I would return to the breathtaking lake. The flights were booked through easyJet from Manchester to marakesh we paid extra for 3 cases in the hold giving us 60 kg weight limit plus hand luggage this was more than enough for the both of us. On arrival in marakesh we were met by the friendly and helpful josef who drove us the 3hr journey to the promised land, it was around 9-30 pm when we arrived, we could just make out the lake glimmering in the moon light as we crossed the dam wall.
At the hotel we were greeted by hotel staff, Salah and Grant are bag's were carried for us to a lovely room overlooking the swimming pool, bag's dropped in the room we went up to the restaurant for a well earned coffee and meal. Once we'd finished mopping up a beautiful tagine with the freshly made bread, grant gave us the run down on what fish had been coming from where and swims available for the following morning.
We awoke to the morning sun coming in through the curtains, stepped out by the pool and gazed out in amazement at the view, the magnificent lake flat calm like a mill pond reflecting the surrounding mountains an awe inspiring sight to say the least. After a filling breakfast of breads jams honey and yoghurts, are bag's again were carried up to the reception where Simo was waiting to take us the few minutes drive to the waters edge, Salah, Grant and Michael Johansson meet us with the bus boat, loaded are gear on along with the atlas boilies and honey maize we had pre ordered all was present an correct. Off we set to are chosen swim, Salah an grant soon had the tents and sun shelter set up, we were both genuinely shocked at the quality of the tackle provided, Vortex boat's echo outboards, Nash rods cocoon bed chairs, big high sided unhooking mats.
Soon the lad's were off and we were left to set up rods an make camp, by mid afternoon we were ready to get the rods out, 15 lb mainline with a fluorocarbon leader 5 ounces gripper watch leads then a 35 lb quicksilver gold hooklink and size 2 korda kontinental hook was set up. We decided nothing to technical first day rods were positioned at varying depths and range's from 50 m out to 250 m at depths between 6 an 12 m just to see what was going to work best 4 scoops of maize over each rod enough to get a take if any fish were about at each depth. 2 am in the morning my lefthand rod was away the maize hookbait had been taken by a small but beautiful 10 lb mirror!!!!
By first light I'd had 3 fish all small but it was a start, it was 10 pm that day Gary got his first run a 25 lb common on boilie, over the next few days we began to build a picture of what depths were working best an soon realised boilies were accounting for the better fish in between 6 and 8 m deep. Last time at the lake I'd moved swims after 4 nights an catching 3 fish after moving I never caught another so I wasn't going to make the same mistakes again, happy that fish were in the area we decided to stay put, we fine tuned the spots taking advantage of the calm morning's bouncing bear leads across the lake bed while slowly drifting over the area's in the boat, it was while doing this I found what turned out to be a hotspot for the bigger fish a small strip around 12 ft wide of softer bottom not the usual solid bang down with the lead but a dull thud, every big fish came from this type of bottom we'd still get takes from the stoney areas but the biggest from them were high twentys.
By day four all the rods had produced fish mine around 250 m out and garys comfier at shorter range's around 60 to 100 m out, the following 6 days the fish really homed in on the bait in total we had 55 fish between us, 25 twentys, 4 thirtys to 35lb , 8 thirtys to 39 lb, 4 fortys and a PB common of 52 lb for me.
We used 50 kg of atlas boilies and 120 kg of maize, all baits were soaked in lillypad baits active hydro wheat an there 100 %high quality fish oil and Chris manifolds special amino feed stimulant and his matching 20 mm pop ups, we didn't bother with own bottom baits we glugged the some atlas boilies first day and they worked great, in total we took 10 litres of liquid to enhance the maize and boilies.
All in all this has been the best angling experience of my life, fantastic company with a life long friend, excellent food delivery every day more than we could eat and we can eat some! Michael even went to the trouble of buying a mobile phone I could use as a WiFi hotspot as my phone was not working properly, fishing in breathtaking surroundings catching hard fighting carp is something that will stay with me forever. If your thinking of going to BEO stop thinking about it and do it you won't regret it. Catching a PB 52 lb common was the stuff of dreams.
A million thank you's to all the Morocco Carp team you have taken fishing on BEO to the next level! See you all next year.