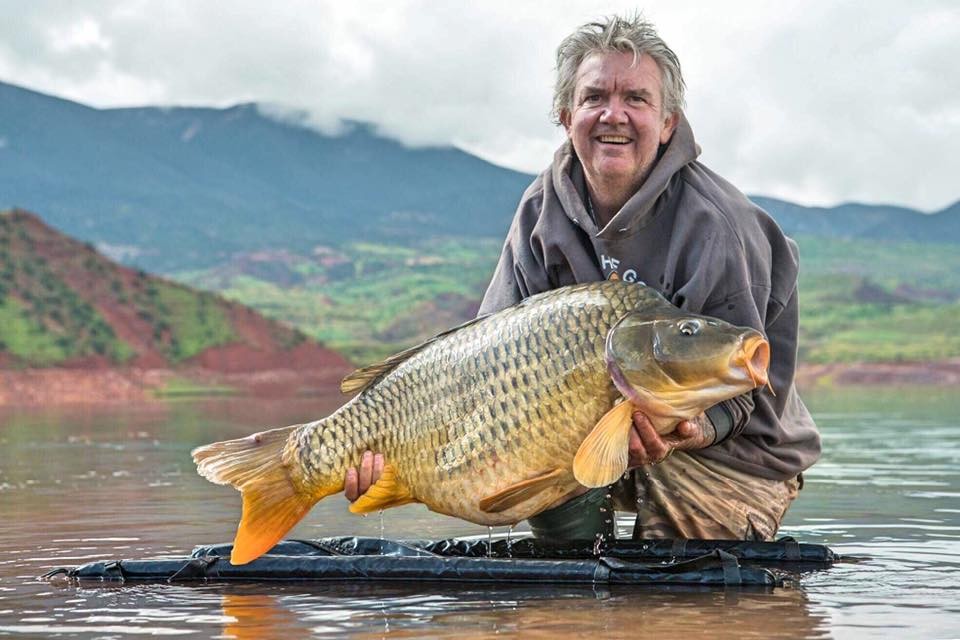 "I arrived at Marrakech and as ever Joseph was on time and happy to chat on the journey up towards BEO, once we were heading into the hills I couldn't help but notice the stark difference from my last trip in October, there's water in the streams and rivers, everything is green and the whole place just looks full of life.
Anyway I'm sure you know the feeling but as we turned that corner and I got my 1st sight of BEO for 6 months I really was amazed at the difference in water levels, I keep up with what's going on but there's no substitute for the real thing, green hills rolling down into the deep turquoise blue water that shelters our beloved BEO carp.
Luggage wise I'd really skimped on clothing and luxuries in favour of hook baits and oils/additives for the quarry I was there to try and catch, weapons of choice were the usual Bait Works pre soaked shelf life Royal Marines, Scent From Hell pop ups along side additives for the maize in the shape of Turmeric, milk powder and pepper oil, luggage ended up 19.8kg on the nose each of my 2 bags, leads, alarms and reels without spools were in my hand luggage that weighed in at another 12kg, praise be to easyJet's easy going weight policy on hand luggage.
Hooks were a change from my usual Solar 101s in favour of JPs size 1 Euro XTs, sharper than Gordon Ramsey's tongue on a bad day and certUainly better looking, combined this with 25lb Super Mantis Gold and I'm set to go.
Met up with some acquaintances from Dubai at the hotel and handed over their treasured alarms that had been with Dal for repair along side some other essential bits for their trip.
Greeted by Grant and the team, got to say Grant you looked like the wild man from Borneo, "dreader than dread man" and after the usual banter settled into where he was going to drop me for the next 12 day, the spot chosen was Yuri island facing back down towards Kwint's area, not fished there before so I was stoked to be trying a new place, without further ado loaded up and headed out toward French bay.
Once on Yuri I put baits 200 metres out to my left on a plateau at around 6 metres, one 70 metres directly in front of me in 7/8 metres and one in 2 metres of water of the margins on the island to my right, traps set I sat, watched and waited as the weather proceeded to gather over the mountains in front of me, with not a lot happening I knocked up some dinner and settled for the night, soon in a deep sleep I was awoken by an absolute belter from my right rod and proceeded to land a fairly small common at around 6 Kilos, but hey every one counts and I was off the mark with a huge smile and sigh of relief, my 1st bar of Moroccan gold for 2018.
Very little activity overt the next 24 hours till again I was awoken from the same rod, not a belting run and it soon became apparent the reason for my rude awakening was a rather unusual BEO Tench, golden eyes staring up at me from the net, I unhooked her and let her meander back to the darkness in front of me, speaking to James in the morning I was to find out this was an unusual occurrence as they grace the Bank on few and far between basis, a beautiful golden brown, not as green as the U.K. Tench I'm all too familiar with.
Day 3 arrives with a bang and I take 3 fantastic commons from the plateau at 11, 14 and 12kg respectively, by the time darkness arrived I was ready for bed and slept fairly well even though the weather was certainly changing for the worse, there's no cover on top of Yuri and the wind was banging through there for the next 24 hours, absolutely relentless, on more than one occasion I got up to check the boat and tent were secure and ready for whatever the Moroccan weather had in store for me.
Day 4 and the wind continued making it really difficult to get out in the boat, however I landed one at 12kg and lost another so had to get back out there later in the morning when a sudden drop in the wind allowed.
Day 5 and the weather remained chilly wet and very windy, however I had no complaints as during the following 24 hours I managed to slip the net under 4 more fish at 13, 15, 12 and 13kg also losing one in the semi darkness to a huge drifting tree came through in front of me, such is life on BEO, at this point I had no rods out due to the wind, however Mother Nature relented for a while and I jumped in the boat with the rods to reset my traps.
The next morning I was preparing breakfast when my alarm sprang into life and a fierce battle ensued, the net result after 15 arm aching and heart pumping minutes was a stunning common tipping the scales at just over 20kg, James arrived on his rounds and did the honours with a few photos, she was a thing of beauty, using a scale of 1 to 10 on the smile front she broke the bank, James and I watched her slowly disappear off into the water none the worse for her experience, the rest of the day was quiet until the evening when I slipped the net under another fish at 15kg, also lost one as I got cut off on some rocks, just part of fishing a lake like this.
The next few days leading up to my departure were fairly warm breezy and quiet on the fish front but I managed to squeak 2 more commons out from the plateau at 10 and 12kg, I was as ever enjoying the scenery and atmosphere offered by this quite unique location, the weather started to change again and the following few days saw me get another 5 in the net, 9, 17, 16, 16 and 14kg. James landed one of these for me, he thought it was my phone lark going off till he saw the rod hooping over and me grinning from ear to ear.
I probably can't add much that hasn't been said or written about BEO before, however for the record this is a truly magical place to fish, it's wild and at times very tough on the angler, when you are up against both the weather and fishing you may need to dig deep into your personal reserves, it really is a carp fishing adventure unlike anything you will experience on commercial fisheries in Europe, so come prepared for all eventualities, above all else be positive and don't let the elements get the better of you.
This was a truly great trip for me, unforgettable, but honestly I've had times here where things have not been quite so rosy, but did it stop me coming back, no chance, did it stop me enjoying it, not a hope in hell, it just made me more determined to succeed and do better next time round, I've yet to catch a BEO Mirror, but it will happen one day, looking forward to my return trips later this year and 2019.
Good luck and tight lines to all who take the plunge, enjoy and embrace this wonderful place.

Tel